What're Vander Waals forces?
Vander Waals forces are attractive forces between nonpolar molecules.
How's this force produced?
As electrons constantly move at random in a molecule, there comes a time where there's a higher concentration of electrons on one side of a molecule than they are on the other side. When this happens, one end of the molecule will be slightly positive, while the other end slightly negative. Let's use the following models of methane to illustrate the concept.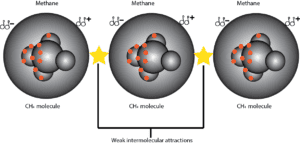 From the model, if we consider the methane molecule to be a sphere containing 10 electrons (see red dots:6 from carbon and 4 from Hydrogen), then at some point in the random motion of the electrons, one side of the molecule will have a higher concentration of electrons than they are on the other side. This electron imbalance will make the electron rich side partially negative and the electron poor side partially positive. This constant shifting in the distribution of electrons causes nonpolar molecules to attract each other.