What's the relationship between pressure and temperature of gas?
The pressure (P) of gas is directly proportional to its temperature ( T, measured in kelvins). This means that when we hold amount and volume of gas constant, the pressure of gas will increase as its temperature increase.
Mathematical, we can express this relationship as: P ∞ T.
If we remove the proportionality sign and introduce an equal sign and a proportionality constant, we will get something like this: P = KT
If we divide both sides of the equation by T, we will get this
P/T = K.
This pressure-temperature relationship is usually called Gay-Lussac's law in honor of Gay-Lussac, who was first to uncover the relationship.
When you, plot pressure versus temperature, you will get a graph like this: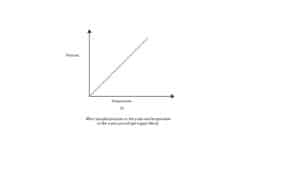 Now, let's use this metal cylinder and candle to illustrate the law.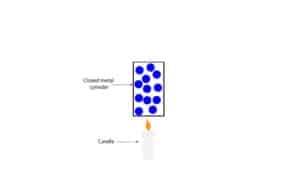 When we heat the closed metal cylinder, energy is transferred from the flame to the gas molecules in the cylinder. The wall of the cylinder is so strong and well-sealed that no gas molecules can pass through it. As the flame heats the gas in the metal cylinder, the pressure inside increases, while the volume of the cylinder remains the same (constant).
Why does pressure inside the cylinder increase when heated?
As the cylinder is heated, energy is transferred from the flame to the gas molecules in the cylinder. As these gas molecules absorb energy from the flame, they increase their kinetic energy. This increase in kinetic energy cause the gas molecules to collide with the walls of the cylinder more often, increasing the pressure.
What will happen if the walls of the cylinder can't contain the gas pressure?
The cylinder will explode.
To read about factors that can affect gas behavior, click here.