What're SI units?
The SI units stands for the International System of Units (SI) and consists of seven physical quantities and seven base units. These quantities and units are summarized in table 1 below.
How did people measure things before standard units?
Long before people had rulers and scales they measured things. So how did they do it? They did it using the human body. Because body measures are different for different people, just imagine the confusion this may have caused. To solve this confusion, scientists developed standard units for measuring things. These standard units never change, and they are the same for everyone. If two people use standard units to measure the length of the same object, their measurements should be the same or almost the same. Here is a table of the SI base quantities.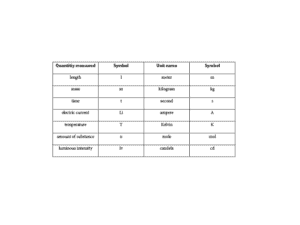 What're SI derived units?
These are units that are derived from the seven base quantities. For example, if we want to determine the volume of a rectangular prism, we have to measure the length of the height, width, and length, then multiply these values together to get the volume of the object. Let's say, if our object is a cube and each side has a length of 10 m, then we can calculate the volume as: 10 m *10 m *10 m = 1000 m3.(One thousand cubic meter, cubic because we have to multiply the units too).
What're alternative units?
These are units that allow us measure short distances, weigh smaller things, and count longer periods of time. Some of these units are: gram (g), centimeter (cm), millimeter (mm) and so on.
Why should we measure in alternative units? 
Sometimes it may be impractical to measure things using the base units right away. So we measure in alternative units and convert to the base units.
What're Prefixes?
Prefixes define multiples or fractions of the base units. For example, 1kilometer = 1000 meters, and 1 millimeter = 0.001 meter. Here is a table that shows some prefixes.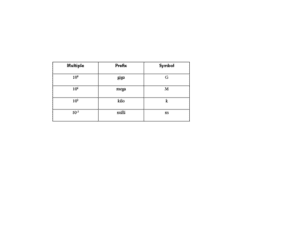 Let's use the prefix kilo to write some relationships. Kilo means 1000 or thousand. Therefore we can write the following relationships
Length:        1000 meter = 1 kilometer      or  103 m = 1 km 
mass:           1000 gram = 1 kilogram       or   103 g =  1 kg
Note that the 3 (called exponent) in 103 means 10 multiplied by itself three times.
To learn how to convert from one unit to another, click here.