Basil Mugaga Naah (Ph.D.) teaches concepts in chemistry to science and non science majors at Wright State University.
Growing up in Africa, learning chemistry didn't come easily to me. Because for one thing chemistry is an abstract subject and for the other, we didn't have the needed machines like gas chromatography, atomic force microscope, scanning electron microscope and others that will make chemistry more meaningful and deepen our understanding of it. But this all changed when I travelled to study at University of Siegen, Germany. There, with the help of the above instruments, I was able to "see, feel" and reflect at the molecular level what I was learning and what chemistry is and how well it ties to our whole being. This experience even grew more when I travelled to study at Middle Tennessee State University, US. There, I learned more about chemistry. I learned why it's difficult. I learned why some students dislike it. And I learned how to teach it such that it will arouse students' interest to want to learn more.
At present, I put these experiences to work at Wright State University, where I teach concepts in chemistry to pre-service elementary and middle school teachers and general chemistry to science majors. To make chemistry more meaningful to them, I usually use a variety of instructional strategies. These strategies include visualization, group discussion, concept mapping, hands-on experiments and many more. The experiences these students have shared with me over the years have always challenged me to keep reflecting and finding new ways to improve what I am doing. This constant reflection led to the creation of this blog. And as you can see, I enjoy writing and writing about chemistry.
If you would like to see how I look like, here is me: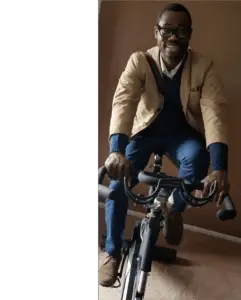 And if you would like to suggest anything to improve the content on this blog, please click here.
Thank you for reading.