What're the rules for placing electrons in atomic orbitals?
The following rules guide us on how to fill atomic orbitals with electrons. These rules are derived from the properties of the electron.
Rule 1 (Pauli Exclusion Principle)
An atomic orbital can hold a maximum of two electrons, and these two electrons must have different spin states ("spin-up" and "spin-down").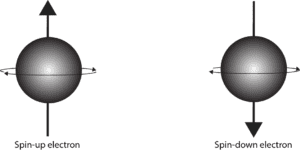 How're these spin states symbolized when we place electrons in orbitals?
We usually symbolize the "spin-up" with an arrow pointing up and the "spin-down" with an arrow pointing down. So when an orbital is filled, you will see one arrow pointing up and the other arrow pointing down. See the diagram below.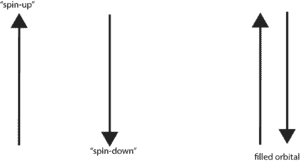 Notice!  Because of these spin states, only two electrons with two different spin states can occupy the same orbital.
Rule 2 (Hund's rule)
When filling orbitals that have the same energy (degenerate orbitals), you must first put one electron in each orbital (all spin-up or spin-down), and if after doing so you still have some electrons left over, you add another electron to pair the first electron up. If you still have extra electrons after filling the degenerate orbitals, you move on to the next energy level.
Rule 3 (Aufbau Principle)
Start filling from the lowest energy level and then move upwards according to the following diagram: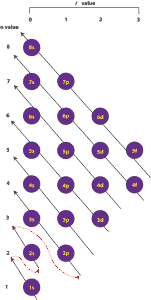 But Notice, there are some exceptions in using the above diagram to write the electron configuration for transition elements. For instance, some transition elements, are more stable when the d-orbital is half or completely full.
How can we apply these rules to write an electron configuration?
To apply the rules, follow the following steps
If you are not given the atomic number of an element, you are expected to use a periodic table to identify the atomic number of the element.
Figure out its number of electrons. For negative ions, add the size of the charge to the the atomic number. For positive ions, subtract the size of the charge from the atomic number.
Construct an orbital diagram for the element.
From the orbital diagram, generate  the element's electron configuration.
Below is a diagram showing how we applied these rules to write the electron configuration of Nitrogen and oxygen.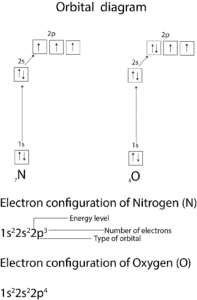 From the diagram, you can see that each 2p orbital of nitrogen has only one electron in it. This is as a result of rule 2. You can also see that the 1s and 2s orbitals are completely filled with one arrow pointing up—"spin-up" state and the other arrow pointing down—"spin-down" state. Also notice there are three unpaired electrons in N and two in O. This unpaired electrons make O and N paramagnetic.
To read about how these orbitals are arranged, click here. 
To read about valence and valence electrons, click here.