What're the types of chemical reactions?
The four types of chemical reactions are:
Proton transfer reactions
Electrons transfer reactions
Radical reactions
Lewis acids-base reactions
What're proton transfer reactions?
Proton transfer reactions occur when a proton is transferred from an acid to a base.
How can a proton be transferred this way?
The most abundant form of hydrogen has one proton and one electron. The one proton it has easily gets drawn into the electron clouds of other atoms. When this happens, we usually say a proton has been transferred. Sometimes the symbol, H+, is used to describe proton transfer when we write chemical equations for acid-base reactions. Notice that proton transfer reactions are an exception and are common only with acid-base reactions.
What're electron transfer reactions?
Electron transfer reactions occur when one atom loses an electron to another atom. The atom that loses the electron is said to go through oxidation. And the atom that receives the electron is said to go through reduction. For this reason, electron transfer reactions are usually called oxidation and reduction reactions.
But it's a mouthful to say oxidation-reduction reactions. So chemists combined the first few letters from each term to make REDOX. So, REDOX reactions simply mean oxidation and reduction reactions. Notice that in REDOX, the oxidation (OX) part is read first before the reduction (RED) part.
What're radical reactions?
Radical reactions occur when a molecule with one unpaired electron combines with another molecule with one unpaired electron to make a bond. Radicals are highly reactive and do not survive for long.
What're Lewis acid-base reactions?
Lewis acid-base reactions occur when one molecule supplies both electrons to make a bond. They are called acid-base reactions because they share many similarities of the acid-base reactions. Lewis acid-base reactions are usually common with colorful transition metal complexes. In these complexes, transition elements usually donate all the shared electrons.
What do atoms do when they go through one of the four types of reactions?
Atoms can combine with each other in one of four ways. These four ways are summarized in the following model.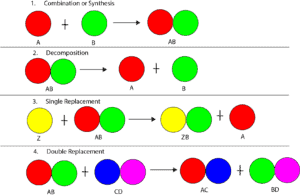 From the model, synthesis is when two or more atoms combine to make a molecule. Decomposition is when a molecule is broken down to produce the individual atoms that came together to form it. Single replacement is when one atom kicks out another atom and takes its place in a bond. Double replacement is when two different atoms are trading places to bond with other atoms.
To read more about the characteristics of chemical reactions, click here.