What's the law of conservation of energy?
The law of conservation of energy states that we can't destroy or create energy, we can only transform it from one form to another. Meaning a decrease in energy of one system must be compensated by an increase in the energy of some other system. Thus, energy in itself remains the same before and after its transformation. If you reflect on the previous statement, you will realize that there is a core difference between the law of conservation of energy and energy conservation.
What's energy conservation?
Energy conservation involves the economic use of energy such that our energy resources can last longer for us and future generations. This economic use among other things includes turning off our lights and electronic gadgets immediately after use.

Now, let's trace the source of our energy using an energy flow chart.
What's an energy flow chart?
Here an energy flow chart is a chart intended to show the path and transformation of energy as it flows through things. Since our primary source of energy is the sun, we will start by describing how the sun generates its energy and how this energy is used by plants to produce food for us to eat.
How does the sun produce its energy?
The sun produces its energy when the nuclei of hydrogen atoms are fused to produce helium in a reaction called nuclear fusion. Before fusion can occur, the two hydrogen atoms must overcome the repulsive forces between their positively charged nuclei. In the course of overcoming these repulsive forces, the reaction releases huge amounts of energy into the universe. This energy is what all living things depend on to survive.
How do plants make their food?
Plants use the chlorophyll in their leaves to absorb energy (light) from the sun. This energy is used to combine carbon dioxide (CO2) and water (H2O) to make glucose (C6H12O6) and oxygen (O2) in a chemical process called photosynthesis. Here is the balanced chemical equation that describes photosynthesis:
6CO2 + 6H2O + energy → C6H12O6 + 6O2
Without light from the sun, plants won't make glucose. Glucose serves as a basic building block to make other complex molecules. Upon which we all depend. So, in photosynthesis,
Where do plants store the energy they absorbed from the sun?
This energy is stored in the chemical bonds of glucose and oxygen. It is this energy that holds the different atoms together to form glucose and oxygen. This same amount of energy is released when glucose reacts with oxygen to produce carbon dioxide and water. Let's use the following energy flow diagram to show the energy flow from the sun.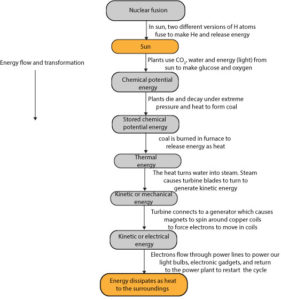 From the flow diagram, we can deduce the following:
Energy can't be destroyed, it can only be transformed from one form to another
Energy dissipates as heat to the surroundings
Energy is conserved. That is, it remains the same before and after physical or chemical change