Here is our problem:
Zinc reacts with HCl to produce H2 gas according to the equation:
Zn(s) +    HCl(aq)  —>    ZnCl2(aq)       +       H2(g)
 If you have 10.0 g of Zn metal, what volume of 2.50 M HCl is needed to convert the Zn metal completely to ZnCl2?
To start, we must check to ensure the chemical equation is balanced. From the equation, you will notice there are two atoms of chlorine (Cl) on the right-hand side of the equation and one atom of chlorine on the left-hand side of the equation. Also, there is one atom of hydrogen on the left-hand side of the equation and two atoms of hydrogen on the right-hand side of the equation. Clearly, the equation is not balanced. To balance it, we will put 2 in front of HCl. Once we do, our equation will appear as:
Zn(s) +    2HCl(aq) —>    ZnCl2(aq)       +       H2(g)
Now that we have a balanced equation, here is what we know from question
Mass of of Zn = 10.0 g
Molarity of HCl = 2.50 M = 2.50 mol/L
From the above information, we know only the Molarity of HCl, but with only Molarity we can't do much with it. However, since we know the mass of Zn, we can use it in addition to its molar mass from the periodic table to calculate moles of Zn. And once with get moles of Zn, we will then use the balanced chemical equation to convert from moles of Zn to moles of HCl. Once we get moles of HCl, we will divide moles of HCl by its Molarity (mol/L) to get volume of HCl in Liters.
 Here is a summary of the steps

And here is a summary of our calculation base on the steps outlined above.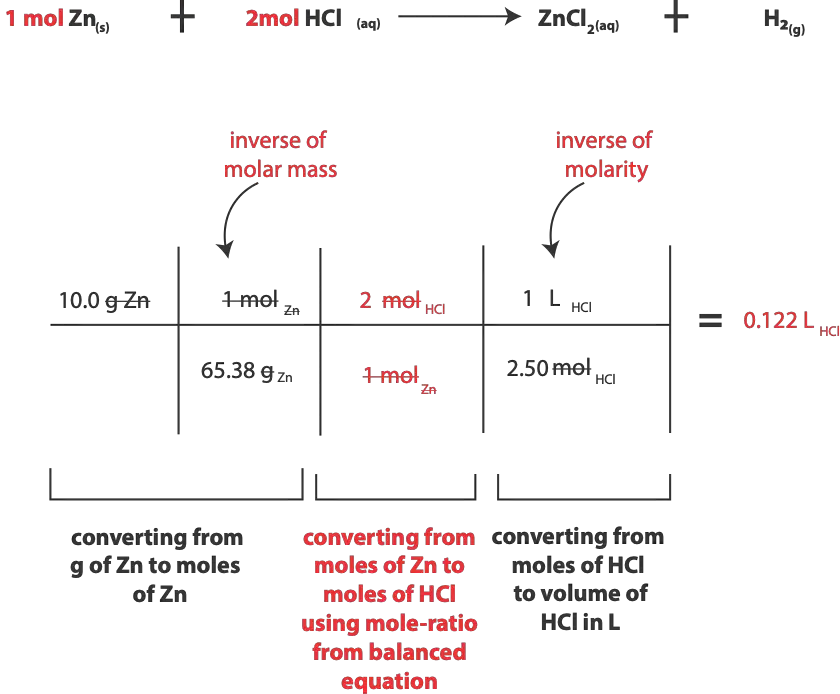 As you might have realized, an important part of the calculation is to recognize that you can use the mass of Zn to calculate moles. Also by recognizing that Molarity (M) is a derived unit, and it's the same as writing (mol/L). Therefore 2.50 M is the same as writing 2.50 mol/L.
You can solve similar solution stoichiometry problems by applying the above steps in addition to the septs outlined in the following diagram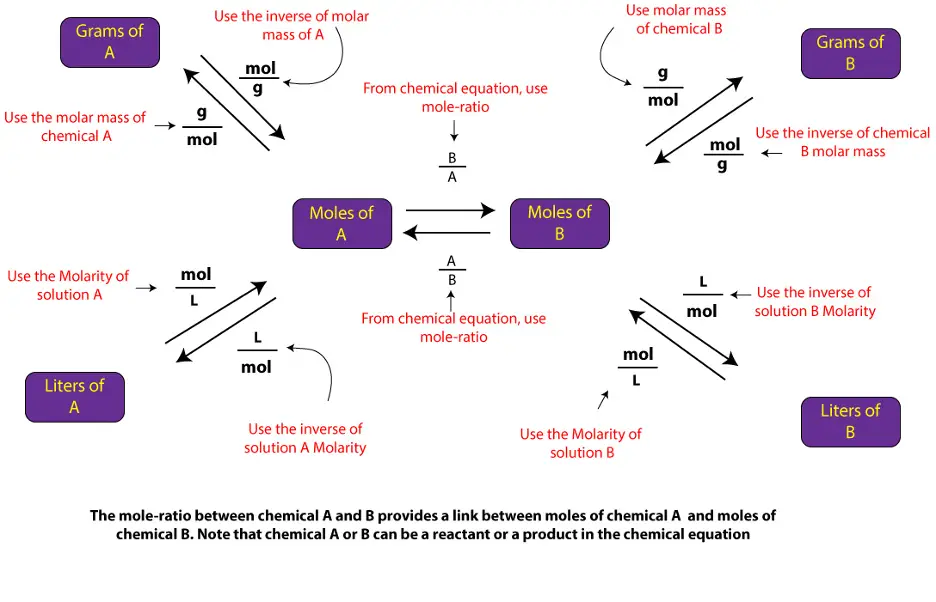 To learn how to convert from Molarity of one chemical to Molarity of another, click here.